PEP TALK 6: COMPLEMENTS PEP TALK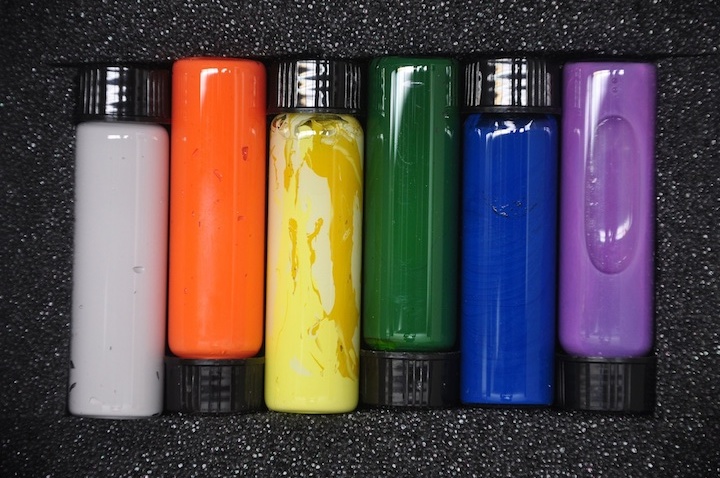 PEP TALK 6: COMPLEMENTS PEP TALK
Complements PEP TALK takes the form of a box of paints. Each box contains a set of six glass vials of primary and secondary colors: red, orange, yellow, green, blue, and purple. Each color has been mixed by an artist in the paint (s)he uses in her/his studio practice. This issue is partly about conservation and time-capsulation. The artists were asked to mix their 'favorite' version of the color they contributed, whatever 'favorite' might mean--the 'best'?--in general or on that day. It is not an unridiculous prompt. Each color is presented here as a text. The three artists asked to mix one of the three primary colors in turn selected and invited another artist to mix her color's complement--the resulting spectrum spans a set of personal and communal, as well as chromatic relations emerging at this moment and in this place: Los Angeles, the beginning of 2014.
Red: Alex Olson
Orange: John McAllister
Yellow: Dianna Molzan
Green: Lesley Vance
Blue: Lisa Williamson
Purple: Christian Cummings
There are 48 boxes in this issue's edition. The cover of each is a unique, singular work adapted by one of the six artists using the color (s)he mixed for PEP TALK.
$200 + shipping ($20 America / $30 International)
Please specify in a note at the time of purchase which color box is your first and second preference. Unless specified, orders will be filled at random.